About HEROCROSS's 2 inch Transformers Series (Set B)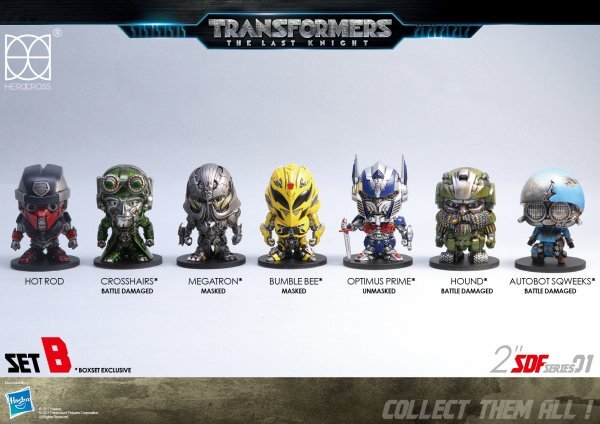 Whole new series !!! Super Deformed Figures (SDF) Transformers series are joining HEROCROSS !

"There comes a moment in everyone's life when we are called upon to make a difference. In Transformers: The Last Knight, the hunted will become heroes. Heroes will become villains. Only one world will survive: theirs, or ours."

The highly anticipated Transformers: The Last Knight hits theaters worldwide this summer! In addition to the Hybrid Metal Figure Series among collectors, Herocross also diversifies the product line for a variety of fans out there.

Today Hero Cross is thrilled to introduce the Super Deformed Figure Series which will be one of the most adorable deformed Transformers figures you'll ever see!

Transformers: The Last Knight – S.D.F. series includes Optimus Prime, Bumblebee, Megatron, Autobots Sqweeks, Hound, Crosshair & Hot Rod! Two special sets are also available where Battle Damaged version, Red/ Purple/ Blue Eyes versions are exclusively included. (Each approximately 2inch tall comes with a round stand) !

*Product details are subject to change without notice.

Product Includes
1 x Hot Rod
1 x Crosshairs - Battle Damaged
1 x Megatron - Masked
1 x Bumblebee - Masked
1 x Optimus Prime - Unmasked
1 x Hound - Battle Damaged
1 x Autobot Sqweeks - Battle Damaged


You Might Also Like